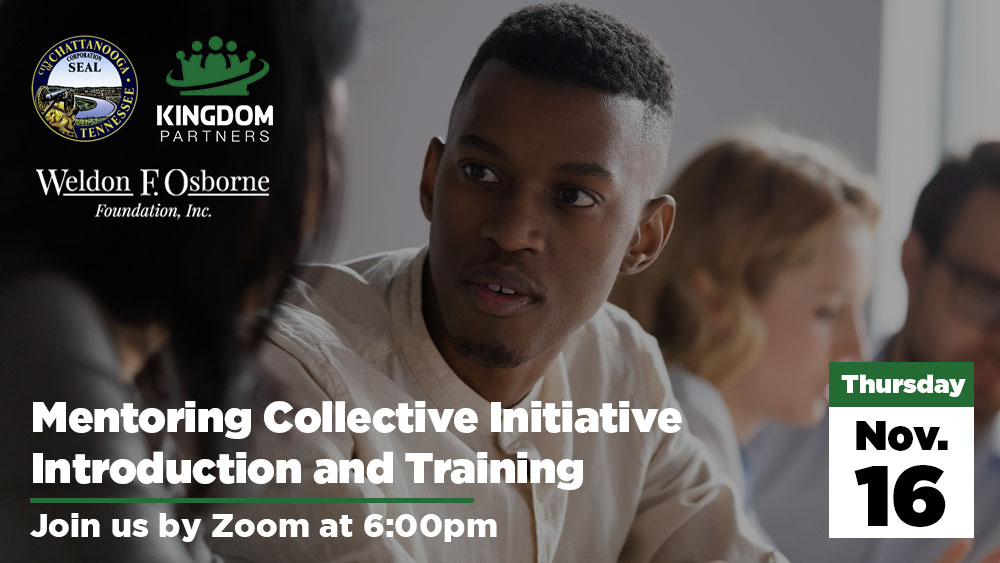 Mentoring Collective Initiative Introduction and Training
Kingdom Partners Mentoring Collective Initiative Introduction and Training
Thursday, November 16, 2023 at 6:00pm
Online Training by Zoom
https://zoom.us/j/4059959590
Kingdom Partners and local community partners are working to create mentoring opportunities for our youth by empowering Churches and Faith-Based-Organizations, nonprofits to mentor youth in Urban areas of Chattanooga.
Our goal is to recruit, train and resource 300 new mentors in the City of Chattanooga for 300 kids.
Through the Kingdom Partners Mentoring Collective Initiative, Kingdom Partners will provide $2,400 per mentor coordinator and $600 per mentor/mentee match as well as ongoing training and resources.
We invite you to join us on Thursday, November 16th at 6:00pm by Zoom for an introduction and  training in this initiative.
Please contact Oliver Richmond at orichmond@kingpartners.org with any questions.