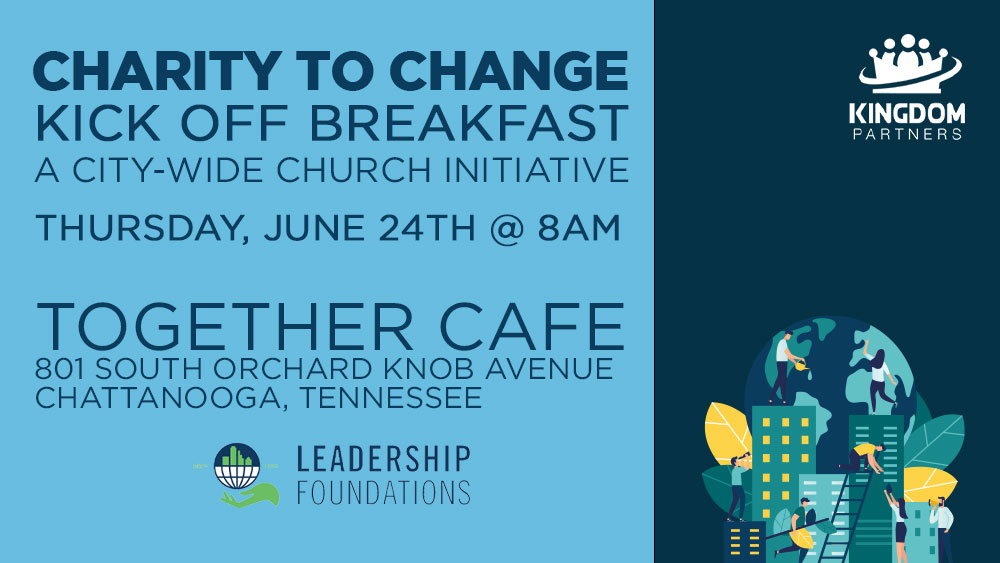 Date
Jun 24 2021
Expired!
Charity to Change
Charity to Change
Kick Off Breakfast
A City-Wide Church Initiative
Thursday, June 24, 2021 at 8:00 am
TOGETHER CAFE
801 South Orchard Knob Avenue Chattanooga, TN 37404
Please RSVP to Oliver Richmond
Text: 260-418-2265
Email: orichmond@kingpartners.org
In partnership with the Eli Lily Endowment, Leadership Foundations has developed Charity To Change, an innovative training program to work with churches and church collaboratives to reimagine how congregations can invest in long-term, systemic community change with the skills, knowledge, and tools essential to build closer connections with their local communities, to develop a better understanding of their socio-cultural context, and be responsive to their most pressing needs.
A city's faith community has tremendous resources that can help renew that city if it is meaningfully and intentionally engaged. By growing in their awareness of the assets that are currently present in both their neighborhoods and congregations, and in their skill at networking to activate the resources they have identified, congregations possess the powerful capability for action that leads to lasting and sustainable change for the common good.
City based cohorts of church leaders and Local Leadership Foundations will walk together through the initiative that couples online asynchronous learning, coaching and personalized work plans. The cohort will work collectively to identify, plan and implement a collaborative project that connects the abundant gifts within their congregations to the needs of their cities.